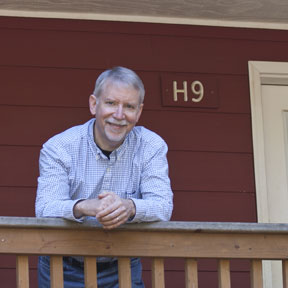 Mike Brown is a fan of post-apocalyptic science fiction who asked, "What if the world after an apocalypse was not a wasteland? Was not full of zombies? Was not a deadly place to live?"
But what if a young couple was forced to live there?
And how would this couple get along if he loved it and she hated it?
Welcome to his debut novel, Resuming Eden, a sweet romance story . . . that takes place in the not-too-distant future . . . after an apocalypse . . . followed by a utopia . . . where everyone is safe . . . if they follow the rules.
His high school English teacher said he should be a writer, but for the next forty-two years he preferred graphic design, typesetting, and running small businesses. With all that behind him, he finally had time to take his high school teacher's advice.
Mike lives in Portland with his wife and grandchild, a daughter's Sheltie she had to give up when she moved to Germany.
He'd love to hear what you think of his story. Send an email to [email protected], or leave your comments below.
Comments
Do you have a question or want to leave a review or comment? You can use this form to contact M Brown.
If you leave a review or a compliment, can I reprint it with your first name?